How To Take Exams And Support
Following each course, there will be an exam to test your knowledge of what you just learned. Please take those exams and remember, you must maintain a 60% passing grade for the Associate's degree and a 70% passing grade for the Bachelor's and master's degrees. A failed exam can be taken again once but a student needs to contact us by email to set up a retake. That email address is online@isom.org. This email can also be used for any support issues that you need resolved. Your overall grade are stored with us and will accumulate until a degree requirement is met. Please do not move to another trimester until you have successfully completed the previous one.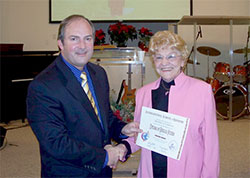 Obtaining A Degree
After successfully completing 5 semesters, an Associate's degree in biblical studies may be obtained through our office in California. In the same way, following 10 semesters, a student may obtain a Bachelor's of Ministry degree. Please be aware that a student will need to be studying for a minimum of 1 year before the universities distribute degrees. The fun thing about the Bachelor's level program is it's flexibility. A student can choose from a number of different topics and speakers to tailor their studies according to their own personal ministry passions. Even more flexibility is given at the Masters level but students wanting to go that route will need to contact our office directly for guidance.
Graduation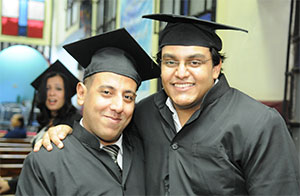 At the point of graduation you will need to email us at grades@isom.org and we will guide you through your options for a ministry degree. We work with three major University and Seminary entities that recognize ISOM online credit and you can choose which one best suits your needs. Please remember there is a $150 transfer credit and graduation fee at the point of obtaining a degree.
Transfer Credit
Some of you may already have some ministry training from another Bible College or University Program and are looking to complete your training through ISOM online. Please send a copy of any past transcript and degree award to grades@isom.org and we will evaluate it for transfer credit into ISOM online. Please again remember there is a $100 fee to move outside credit into your isom online program.
Cancellation Policy
Students can cancel their studies anytime by emailing online@isom.org, requesting through chat, or calling the office at 909478-3330. Once studies are canceled, no future payments will be taken. It takes 3 consecutive months of payments for a Semester of grades to qualify as credit on a student transcript. Each month a student has seven days after a payment is charged to get that payment refunded. Only THAT month's payment can be refunded during that seven day period upon requeset. If three consecutive months of full payment are made and the exams for a semester are completed, that credit will be be valid and applied to a student transcript. If payment is disrupted by a student's decision to stop payment, then no credit will apply and a student will have to start payment for that semester again if they want to resume their studies.
Training You In Three Areas
In closing I want to remind you that the ISOMonline program is designed to help you become a mature and balanced Christian believer. We have many powerful inspirational and impartational classes within the program but others are more instructional. We work to balance your growth in three areas. First your knowledge needs to be increased, then your character needs to be molded and finally the gifts and callings in your life need to be developed. We always balance the training in these three areas of knowledge, character and gifts.
Closing - Let's Get Started
Hey, I am so excited about you starting this program. You are joining a student body of hundreds of thousands from around the world, truly an end time movement of preparing the Bride of Christ for the coming of Jesus and of preparing laborers for His harvest. This has been a journey of more than 25 years for me, and I'm so grateful that you have decided to join me on this journey of getting a ministry degree and of educating yourself for ministry service.
Let's get started.
Dr. Berin Gilfillan - ISOMonline Founder